New!
5/1/2014 - Some new scripts - Waterworld, John Carter of Mars, Kick-Ass, Oblivion and Beowulf.
11/21/07 - Thanks to "Anonymous-J" for this October 24, 2000 "white" shooting draft of K-Pax by Charles Leavitt (based on the novel by Gene Brewer) in pdf format. This starred Kevin Spacey and Jeff Bridge. Prot is a patient at a mental hospital who claims to be from a far away planet. His psychiatrist tries to help him, only to begin to doubt his own explanations.
8/1/07 - Thanks to "Anonymous" for this April 18, 2004 un-numbered draft of Joss Whedon's Serenity in pdf format.
6/7/07 - Thanks to Gail over at Grizzly Peak Films for this draft of Devil on the Mountain (shown as Sasquatch Mountain on Sci Fi Channel. It starred Lance Henriksen as a lonely tow-truck driver who gets caught in a deadly struggle between a pair of bank robbers with a beautiful hostage, local cops, and a monster that has come down from the Arizona mountains to eat human flesh. Click here to read the script (in pdf format) Yes, the link does work, now.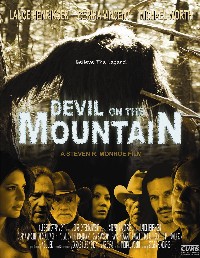 7/11/06 - Thanks be to Vern...

X-Men 2 - April 30, 2002 production draft.
6/4/2006 - Thanks to Vern for this one.

The Poseidon Adventure March 24, 1972 third revised shooting final draft by Stirling Silliphant
4/11/06 - Thanks to "k-1.c-1." for this.

A friend of mine worked on Patrick Stewart's recent British TV show and passed this along. He says they changed a lot when they shot it. This was the pilot.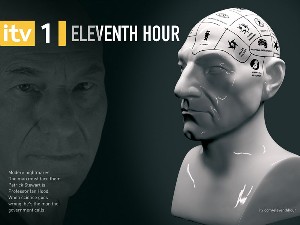 "This" is an early draft of the pilot of Eleventh Hour: Man Without A Shadow written and created by Stephen Gallagher. The pilot episode was later renamed Eleventh Hour: Resurrection. Eleventh Hour is an amazing British Sci-Fi-ish thriller starring Patrick Stewart and Ashley Jensen. This is an investigative thriller set in the present and deals with current science/environmental issues. You must check out the Eleventh Hour Web Site where you can find not only the teaser trailer, but also video synopsis of the first four episodes. I would so love to see this out here in the colonies a little faster than it took for Dr. Who to make it out this way.
2/26/06 - Thanks Vern! Here is Close Encounters of the Third Kind (Part I and Part II)

The screenplay, which was finished by Spielberg from an original script by Paul Schrader was based upon the book, The UFO Experience by Dr. J. Allen Hynek. Hynek also served as the film's technical advisor.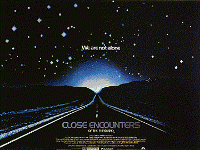 Cableman Roy Neary is one of several people who experience a close encounter of the first kind, witnessing UFOs flying through the night sky. He is subsequently haunted by a mountainlike image in his head and becomes obsessed with discovering what it represents, putting severe strain on his marriage. Meanwhile, government agents around the world have a close encounter of the second kind, discovering physical evidence of otherworldly visitors in the form of military vehicles that went missing decades ago suddenly appearing in the middle of nowhere. Roy and the agents both follow the clues they have been given to reach a site where they will have a close encounter of the third kind: contact. Summary written by rmlohner
2/8/06 - Read Timeline


- Thanks Vern! Part 1 and Part 2 (in PDF Format) - 10/25/2000 draft by George Nolfi.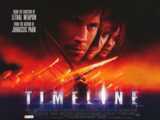 In the heart of the beautiful and historically rich Dordogne Valley of France, a team of archaeology students and their professor diligently work to uncover the ruins of a 14th-century castle. For Professor Edward Johnston, the project is the culmination of a lifelong dream. Aided by assistant professor Andre Marek,his son Chris, and students Kate, Stern and François, Johnston has made major strides in unearthing not only La Roque Castle but also a monastery and structures from the surrounding village of Castlegard. But things are about to go haywire... Suspicious of the dig's benefactor, International Technology Corporation (ITC) and the man who runs it, Robert Doniger, Professor Johnston heads to ITC headquarters in New Mexico to get some answers, and while he's away, his students discover a chamber that has been sealed for more than 600 years. Marek and Kate descend into the unstable room, and just before a near disastrous cave-in, they make two startling discoveries -- a bifocal lens, which couldn't have been invented before the chamber was sealed, and even more intriguing, a handwritten plea for help dated April 2, 1357...from Professor Johnston! Determined to solve the mystery, the students head for ITC headquarters, where they are stunned to learn of Doniger's new invention -- a machine that can actually transmit three-dimensional objects through space. Although he meant for the device to revolutionize shipping, Doniger inadvertently opened a wormhole that leads directly to the 14th century, and Professor Johnston, who had insisted on experiencing the discovery himself, is now trapped in a vicious French vs. English feudal war! Can Johnston's loyal students survive one of the most violent battles in world history... and make it back to the 21st century alive?

4/7/05 - Based on the DC/Vertigo comic book Hellblazer and written by Kevin Brodbin, Mark Bomback and Frank Capello, Constantine tells the story of irreverent supernatural detective John Constantine (Keanu Reeves), who has literally been to hell and back. When Constantine teams up with skeptical policewoman Angela Dodson (Rachel Weisz) to solve the mysterious suicide of her twin sister (also played by Weisz), their investigation takes them through the world of demons and angels that exists just beneath the landscape of contemporary Los Angeles. Caught in a catastrophic series of otherworldy events, the two become inextricably involved and seek to find their own peace at whatever cost. Read the Script. Thanks to "BlinkieBarnes" and "Wasabi".

Friends of the 'Sci-Fi Guy':